Here is the ultimate one-page list of careers in medicine and health care.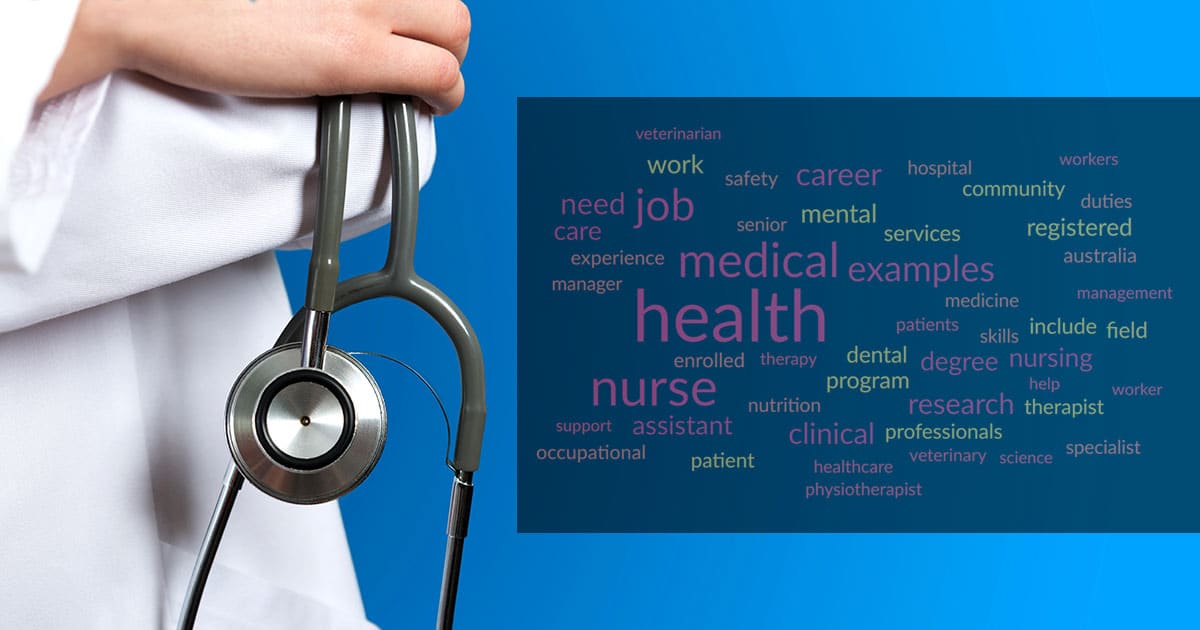 If you're interested in health work, check out this careers list. We searched employment sites to find out which healthcare jobs are in demand and what's needed for a successful career. The list shows 16 categories of work, 55 health careers, and over 200 job examples.
Administration
Just like other industries, the healthcare sector offers careers in administration and management. Experience and knowledge about medical services can be an advantage, especially for senior roles and positions close to the front line of service delivery.
You can study online for a health administration masters degree to break into, or get a boost in, the management career stream. Any good online health management course allows you to study while continuing to work full-time or part-time in healthcare.
1. Clinical Administrator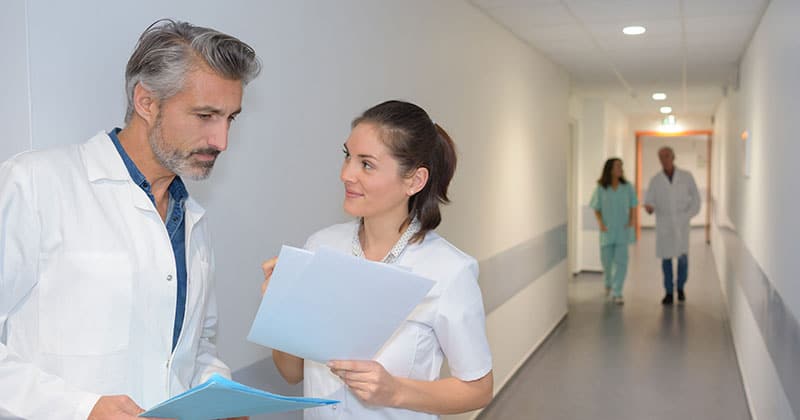 A recognised medical qualification is essential for a career in clinical administration. The job is to provide professional leadership to medical staff, ensuring medical standards are complied with. As well as a medical qualification, you'll probably need to be registered with AHPRA (Australian Health Practitioner Regulation Agency). Experience in clinical health organisation management and health services management qualifications is advantageous. Risk management and clinical governance expertise may also be required. For director-level positions, you may be expected to have fellowship with the Royal Australasian College of Medical Administrators and/or to have done postgraduate research.
Job examples: clinical administrator, director medical services, director of clinical services.
2. Hospital Administration
Hospital administrators do general duties to achieve efficient delivery of medical and other services to patients. Job opportunities include both higher level roles and positions for those beginning their careers. While some people start in this field via job experience or traineeships only, a relevant Vocational Education and Training qualification should give you an advantage in job search. Administrative jobs in hospitals require outstanding organisational, communication, and problem-solving skills. You'll need to be detail-oriented and friendly also. Information collection and filing are important duties in many roles. Health industry experience and an understanding of Patient Administration Systems are sometimes required.
Job examples: administration officer, allied health administration assistant, health administration specialist, health information services clerk, hospital administration officer (patient services), patient services clerk, patient services officer - patient administration.
3. Medical Records Administrator
Medical records administrators carry out duties such as maintaining patient records, responding to queries, billing, and data entry. Most positions require knowledge of National Coding Standards and medical terminology. Health Information Manager / Clinical Coder jobs may require formal qualifications in that field, as well as familiarity with the iPM Patient Management System. To succeed in this career, you'll need to be detail-oriented and organised. You should also have excellent communication and teamwork skills.
Job examples: billing administrator, health information manager, health information manager / clinical coder, medical records administrator, medical records clerk.
4. Medical Secretary
If you're highly organised and have good communication and time management skills, a career as a medical secretary might be right for you. Start gaining experience as soon as possible to build up your skills and industry knowledge. You'll need to become familiar with medical documents and procedures, as well as medical terminology. Examples of typical duties include dealing with phone calls and incoming mail; maintaining patient records and filing systems; and setting up appointments. Jobs can be found in doctors' offices, hospitals, and nursing homes. Earning a Certificate IV in Health Administration might give you an advantage in the job market.
Job examples: medical receptionist, medical secretary, medical secretary - specialist practice, medical secretary - surgical practice, medical secretary / receptionist, medical typist / secretary.
5. Program Manager
Program managers manage healthcare programs, such as community allied health programs, to effectively provide services. These professionals require highly developed leadership skills. Most positions will require a significant amount of experience in a healthcare setting, and managerial experience. You'll probably need expertise in the program's specific healthcare field. Program managers receive an excellent median annual salary.
Job examples: community allied health manager, program manager - mental health.
Allied Health Professionals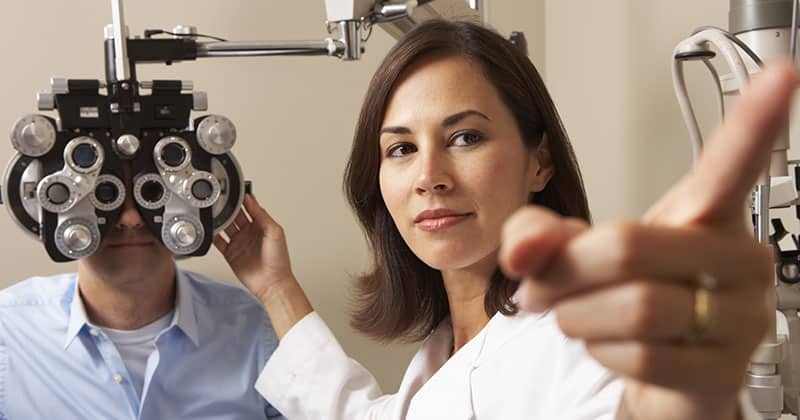 You can specialise in a certain aspect of human biology as an allied health professional. These are some of the professional careers you can pursue outside of classical medical practice.
6. Audiologist
As an audiologist, you test and assess hearing. The job is to understand, identify and treat hearing disorders. You assist patients by overseeing non-medical rehabilitation and management of hearing loss and related communication disorders. To begin in this career, complete an undergraduate degree and then a postgraduate qualification in audiology. Your undergraduate studies should be in a health science, biological science, biomedicine, or a related discipline. Make sure to check the audiology prerequisites at the institution where you wish to study.
Job examples: audiologist, audiologist / audiometrist, senior paediatric audiologist.
7. Optometry
Optometrists identify vision problems by performing examinations. They also prescribe treatments to deal with these issues. Some of the treatment options available include the prescription of eye glasses, a variety of optical aids, vision therapy, and medicated eye drops. When necessary, optometrists may refer clients to specialists. You may work in a retail setting with a sales-related role. You need to be detail-oriented and part of the job is to record prescriptions and treatments. You'll need an optometry degree to enter the field.
Job examples: graduate optometrist, optometrist, optometry-general, mobile optometrist.
8. Podiatrist
As a podiatrist, you diagnose and treat foot abnormalities. You also help to prevent them, partly by providing education to patients about foot health. To be successful in this field, you'll need to be able to work independently and be enthusiastic with patients about providing excellent foot care. Some common podiatrist duties include examining patients' feet to determine if any infections or disorders are present and carrying out appropriate treatment; providing advice on maintaining good foot health; treating foot imbalance through the use of corrective devices; and carrying out minor surgical procedures on the feet. If you think a career in podiatry is right for you, complete a podiatry degree.
Job examples: podiatrist, podiatrist – grade 2, podiatrist – senior.
9. Speech Pathologist
If you have excellent listening and speaking skills as well as empathy and perceptiveness, a career as a speech pathologist is something you might like to consider. Speech pathologists help people with communication and swallowing impairments, providing assessment and treatment. Impairments these professionals address include those involving speech, language, voice, fluency, and social communication. To work as a speech pathologist, you need either an undergraduate or master's degree in the subject. Available specialties within the field include paediatric speech pathologist, specialist in fluency, and swallowing specialist.
Job examples: paediatric speech pathologist, speech pathologist, speech pathologist – grade 1, speech pathologist – grade 2, speech therapist.
Animal Health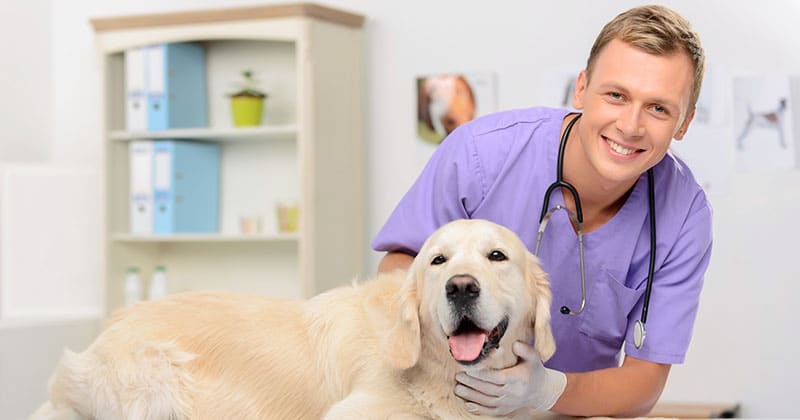 Our animal friends, including pets, wildlife and livestock, also need vital medical services. The main career options are to be an animal nurse or doctor.
10. Veterinarian
Looking for a career helping to ensure the health of our pets and other furry (or feathery) friends? Maybe being a veterinarian is something that you'd enjoy. Most veterinarians work in private practices focussing on family pets. Other options include rural veterinary work (farm animals and horses) and government agency and/or research work. You'll need a Bachelor of Veterinary Science degree. This program takes 5 years to complete if you study full-time.
Job examples: associate veterinarian, emergency veterinarian, emergency veterinary surgeon, equine veterinarian, graduate veterinarian, locum veterinarian, senior veterinarian, veterinarian, veterinary clinician, veterinary surgeon, veterinarian medicine specialist, veterinarian - small animal surgeon, veterinarian - small animal oncology, veterinarian - small animals, veterinarian - specialist surgeon.
11. Veterinary Nurse
If you love animals but don't think being a veterinarian would be right for you, veterinary nursing is an alternative. In this career, you'll probably work in an animal hospital or veterinary practice. Acting as an assistant to veterinarians is sometimes part of the job. A Certificate IV in Veterinary Nursing is an appropriate qualification. This program includes 480 practical work placement hours. Veterinary practices and veterinary hospitals are among the most popular placement workplaces.
Job examples: casual veterinary nurse, equine veterinary nurse, practice manager / veterinary nurse, senior veterinary nurse, surgical vet nurse, vet nurse, veterinary nurse, veterinary nurse / receptionist, wildlife vet nurse.
Complementary Health Therapy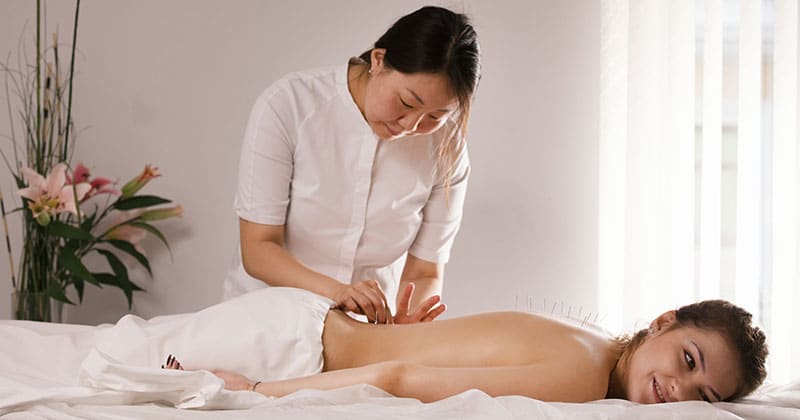 Complementary therapy is also known as alternative therapy, alternative medicine, holistic therapy and traditional medicine. As well as offering feelgood effects, some therapies have an established evidence base and have been proven to work for a limited number of health conditions.
12. Acupuncturist
Acupuncture is an ancient practice and a treatment technique in Traditional Chinese Medicine (TCM). It focuses on the concept of Qi (vital or life energy). It seeks to regulate the flow of this energy to balance the body, mind, and spirit and restore patient health. Acupuncturists also know other TCM treatments such as Chinese herbs, massage (Tui Na), Chinese dietary therapy, and Qi Gong. The educational program you choose should be properly accredited. You'll need to register with the Chinese Medicine Board of Australia. Acupuncturists stimulate anatomical points through the sue of metal needles (or lasers). They may also apply heat, electrical, and/or manual manipulation.
Job examples: acupuncturist
13. Traditional Chinese Medicine (TCM) Practitioner
TCM practitioners use acupuncture, Chinese herbal medicine, and remedial massage. These practitioners see health and wellbeing in a holistic way, focussing on harmony, balance, and order. Prevention of illness is seen as to be as important as treatment. The concept of Qi (vital or life energy) is fundamental to this system of medicine. It's believed that this energy flows through the meridians of the body. Meridians are a series of unseen channels. It's when the flow of Qi is impeded that order, balance, and harmony is lost and illness or disease can result. Poor diet, overwork, stress, environmental conditions, and disease pathogens are among the factors that can lead to such a blockage.
Job examples: acupuncturist / traditional Chinese medicine (TCM) practitioner
14. Naturopath
Naturopaths use natural therapies to support the body in healing itself. They can practice a variety of natural therapies including, for example, herbal medicine, nutrition, massage, homeopathy, and iridology. Naturopaths seek to improve both the physical and emotional wellbeing of their patients. Examples of workplaces include multidisciplinary clinics and health retreats. Many naturopaths set up their own private practices. Accredited educational options to prepare you for a career in this field include advanced diploma and bachelor's degree programs. Naturopaths should register with a major naturopathic association.
Job examples: naturopath
Dentistry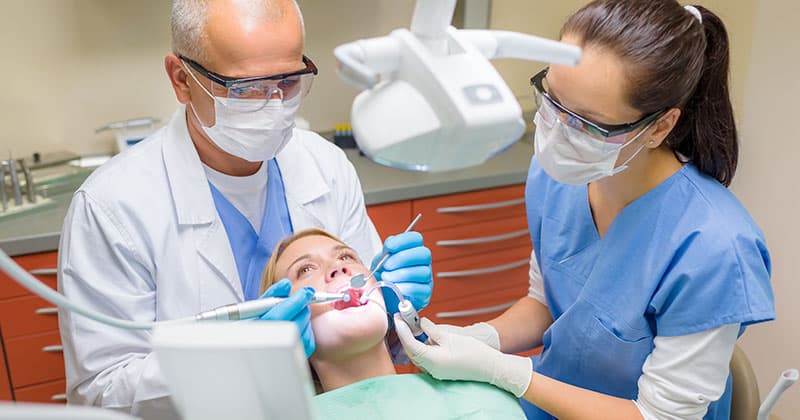 Everybody wants a nice smile and healthy, pain-free teeth. So there's always high demand for dental services. If you don't have the near-perfect grades needed to become a dentist, job opportunities are available in assistant and hygienist roles.
15. Dental Assistant
Are you a team player with strong organisational skills and manual dexterity who can multi-task? You should consider becoming a dental assistant. A few of the tasks that may fill your day include preparing patients for dental procedures; scheduling appointments; setting up and operating equipment; and maintaining patient records. Earning a Certificate III in Dental Assisting will give you an advantage over other candidates for jobs. The Dental Assistants Professional Association is one of the registered training organisations offering this program. In many states, you might have the option of completing the certificate through a traineeship.
Job examples: casual dental assistant, dental assistant, dental assistant - oral health services, dental assistant / receptionist, senior dental assistant, trainee dental assistant.
16. Dental Hygienist
Dental hygienists are healthcare professionals. An integral part of any dental team, they use not only therapeutic but also preventive and educational methods to help ensure oral health and address oral diseases. The exact duties that can be performed by dental hygienists may vary from state to state. If you want to work as a dental hygienist, you'll need to complete an accredited education and training program. You'll also need registration with the Dental Board of Australia.
Job examples: dental hygienist, dental hygienist / oral health therapist, dental hygienist / therapist, hygienist, oral care consultant, oral health therapist.
17. Dentist
If dentistry is your dream, you'll need to complete a degree program that's recognised by the Dental Board of Australia and be registered with the Australian Health Professional Regulation Agency (AHPRA). Some of your duties will include carrying out examinations, taking patient x-rays, doing dental restoration, preparing and fitting bridges, crowns, and dentures, and speaking with patients about oral health. Once you're a dentist, you can enter a specialty such as oral and maxillofacial surgery, orthodontics, endodontics, paediatric dentistry, or periodontics by undertaking additional study.
Job examples: dentist, dentist - senior, dental surgeon, general dentist, graduate dentist, lead dentist, oral surgeon.
Emergency Worker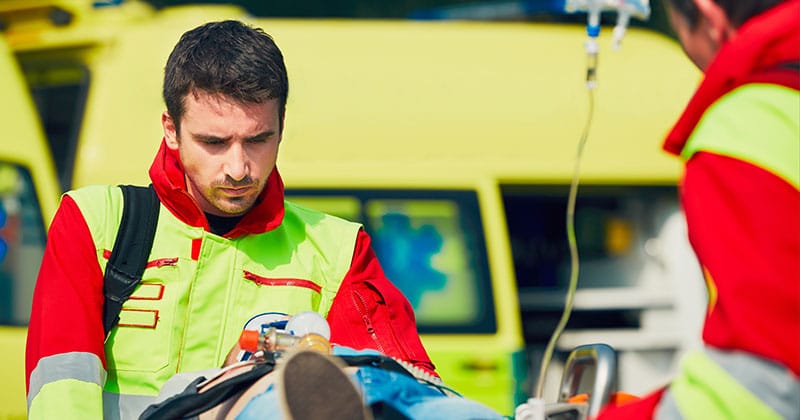 Emergency workers are on the frontline of saving lives and include health professionals who are trained to provide immediate medical assistance.
18. Paramedic
Paramedics provide urgent medical attention in emergency situations, transporting patients to the hospital. The qualifications and experience needed depend on the employer and location, and individual states have their own requirements. To work as a graduate paramedic or qualified paramedic, you need tertiary qualifications in paramedical science or paramedicine. This might be a degree or diploma. The program you choose must be approved by the Council of Ambulance Authorities. You'll need a driver's license, probably a C class license, to participate. Registration with your state's ambulance service is required. To suceed in this field, you must be able to deal effectively with stressful situations.
Job examples: intensive care paramedic, onsite paramedic, paramedic.
Indigenous Health Worker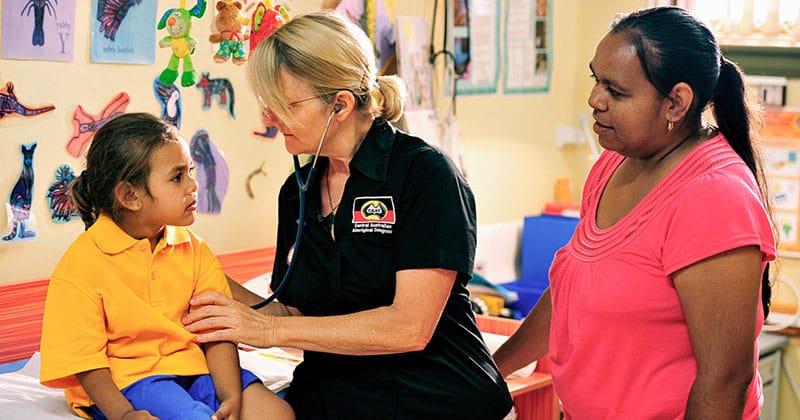 Indigenous health workers help to ensure that the health services most of us take for granted effectively reach indigenous communities.
19. Aboriginal and Torres Strait Islander Health Worker
Especially if you're of Aboriginal and/or Torres Strait Islander descent, a career as an Aboriginal and Torres Strait Islander Health Worker could be for you. These professionals improve the quality of health services to Indigenous patients by liaising between health care professionals and Indigenous people. They may provide clinical and primary care to individuals and families, as well as community groups. In some cases, they treat injuries and address other physical conditions and/or provide counselling. You need a Certificate IV in Aboriginal and/or Torres Strait Islander Health Care Work and be registered with the Australian Health Practitioners Registration Agency (AHPRA).
Job examples: aboriginal and Torres strait islander health worker, aboriginal health worker, health worker (indigenous).
Medical Practice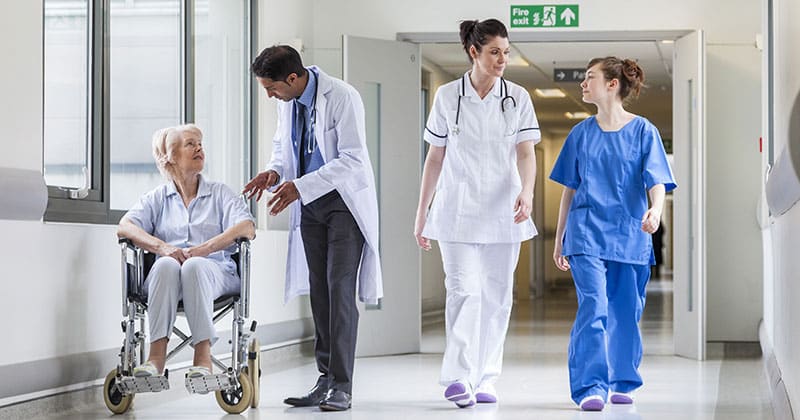 Entering into medical practice places you right on the front line of providing healthcare to the community. To become a physician / doctor, you'll need to earn a medical degree. While this is a long and difficult task, the rewards are also great.
20. Physician
A physician is also known as a 'medical practitioner', 'medical doctor', or just 'doctor'. They have challenging and rewarding careers. Some of the perks they enjoy are a high level of respect in the community, outstanding incomes, and the ability to improve and save lives. For training and qualification, you'll need a five or six-year undergraduate medical degree or, if you already have an undergraduate degree in another field, a master's level degree in medicine. Your medical education should be undertaken at a medical school accredited by the Australian Medical Council (AMC).
Job examples: emergency physician, emergency physician (FACEM), family medicine - physician, general physician, general practitioner, obstetrician and gynaecologist, paediatrician, palliative medicine physician, staff specialist - endocrinologist, staff specialist - intensive care, staff specialist rehabilitation, staff specialist - paediatrics, staff specialist - palliative care, staff specialist - renal and general medicine.
21. Physician Assistant (PA)
The role and job title of Physician Assistant (also sometimes referred to as Physician Associate) is quite new in Australia. A growing number of these professionals may be integrated in the country's healthcare system. Physician Assistants are educated in medical schools, and work under the direction of (and in collaboration with) physicians. They can be authorised to examine patients, provide references to specialists, assist during surgery, create management plans, order patient treatment, and interpret imaging and tests. At the moment, James Cook University is the only university offering an education and training program for Physician Assistants.
Job example: physician assistant
Medical Research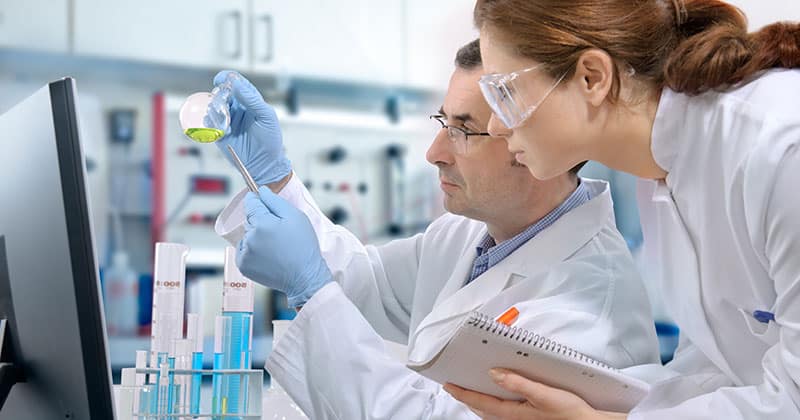 Australia is a world leader when it comes to extending the boundaries of medical knowledge and treatments. We have a huge medical research industry. If you're interested in doing scientific research, medicine and healthcare is perhaps the first career sector you should consider.
22. Medical Research Scientist
Investigating medical ailments and improving treatments is the job of medical research scientists. They require analytical skills, the ability to work independently and as part of a team, and a highly developed capacity for focus and concentration. For a career in this field, you'll need a doctorate in a relevant discipline (such as biology or medical science). Start on the path to this career by enrolling in an undergraduate biology (or related field) program and moving on to graduate studies and a PhD program from there. Different positions have their own specific experience and expertise requirements.
Job examples: clinical project coordinator, clinical trial coordinator, medical science liaison, postdoctoral fellow / research fellow, research scientist.
23. Research Assistant
Research assistants in medical science work under the direction of researchers in charge of the lab or project in question. Many research assistant positions are part-time and/or fixed-term (contract) appointments. Jobs often depend on outside (for example, government) funding for research. To be a research assistant, you'll need to have relevant research and laboratory experience in the field. An undergraduate degree program in biology or a related field is a good start on this career path. An example of an employer in medical research are university medical schools.
Job examples: clinical trials assistant, pathology assistant, research assistant, research assistant - immunology, research assistant - rural health, research assistant / research officer, research assistant - bioinformatics.
24. Research Officer
As a research officer, you could be doing laboratory research or perhaps research on communities and public health. It depends on the specific niche within Australia's healthcare sector. Positions tend to be either fixed-term appointments, or continuing positions that depend on receiving future research funding. If you're currently doing a bachelor degree, look into continuing on to do master's and doctorate-level graduate programs. You'll probably need a doctorate in a science or medical field. Many positions require laboratory experience. Examples of potential employers include universities, medical research institutes, and public health associations.
Job examples: clinical research associate, clinical research coordinator, manager (research program), research associate, research officer, research fellow / research associate.
Mental Health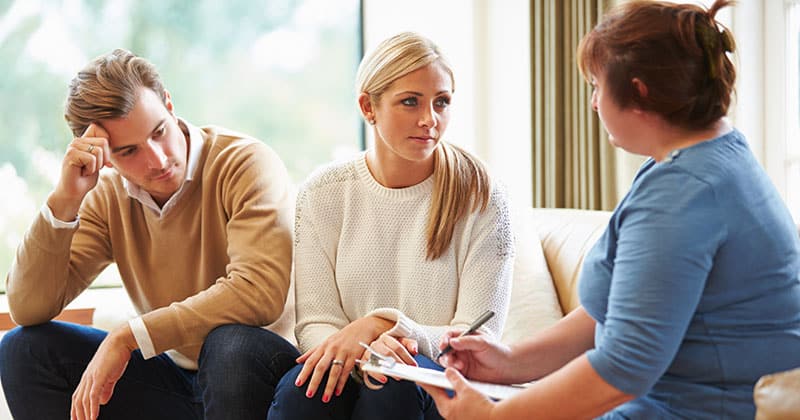 Demand for mental health services is increasing as the community aims to improve life quality beyond just the physical and material. However, career opportunities are somewhat limited due to oversupplies of psychology graduates from universities. To work in mental health, be prepared to do a support role, such as being a carer, or to do advanced studies and become a mental health nurse (see nursing section), registered psychologist or psychiatrist.
25. Accredited Mental Health Social Worker
Social workers who specialise in mental health are accredited by the AASW (Australian Association of Social Workers). Accredited Mental Health Social Workers have extra expertise in mental health compared to your average social worker. In this career, you may provide services through Chronic Diseases Management (Enhanced Primary Care) and Better Access to Mental Health Care programs. These professionals provide individual counselling, family counselling, and group therapy. Begin your career by obtaining a Bachelor of Social Work degree. If you already have a degree in another field, you can do a Master of Social Work program instead.
Job examples: accredited mental health social worker, mental health clinician, mental health professional, youth mental health clinician.
26. Diversional Therapist
Diversional therapists design and facilitate recreation and leisure programs to promote the emotional, social, spiritual, psychological, and physical wellbeing of individuals. Workplace examples are community centres, rehabilitation and hospital units, aged care residential facilities, day and respite service organisations, and mental health services organisations. Educational programs to help begin a career as a diversional therapist include the Bachelor of Health Sciences (Therapeutic Recreation) program at the University of Western Sydney, and the Associate Degree of Health Science (Leisure and Health) and the Bachelor of Health Science (Leisure and Health) at Charles Stuart University.
Job examples: diversional therapist, leisure and lifestyle therapist, lifestyle coordinator, lifestyle therapist.
27. Mental Health Support Worker
Are you committed to helping people in distress? Do you care about the wellbeing of the larger community? If the answer is 'yes', being a mental health support worker might be a suitable career path for you. Exact duties and requirements depend on the employer and the services it provides. Successful mental health support workers are empathetic individuals with excellent interpersonal and communication skills. Earn a Certificate IV in Mental Health to begin your career in this field.
Job examples: mental health support worker
28. Psychiatrist
As a psychiatrist, you diagnose and treat behavioural, emotional, and mental disorders. Examples of illnesses you'd treat could include bipolar disorder, depression, anxiety disorders, personality disorders, and schizophrenia. For success in this career, you'll need superior listening, observation, interpersonal, and analytical skills. As psychiatrists are medical doctors, you must complete medical school and choose psychiatry as your area of specialization. Psychiatrists are highly trained professionals who have an outstanding median annual salary.
Job examples: child and adolescent psychiatrist, consultant psychiatrist, consultant psychiatrist - adult mental health, general adult locum psychiatrist, locum adult psychiatrist, locum psychiatrist, old age psychiatrist, staff specialist - general adult psychiatry, staff specialist psychiatrist.
29. Psychologist
If you're a caring and empathetic person with insight into human behaviour, becoming a psychologist might be a viable career option. Psychologists in Australia are licensed and regulated. There are several pathways to this career. The one that generally opens up the most options for growth and success is to earn a master's or doctorate degree in psychology. You must also pass the designated national board exam. Psychologists are highly trained professionals who, depending on the field, earn attractive average salaries.
Job examples: child psychologist, child and family psychologist, child psychologist - counselling and assessment, clinical psychologist, college psychologist, counsellor (psychologist), mental health clinician, neuropsychologist, organisational psychologist, provisional psychologist, psychologist, psychologist - mental health, registered psychologist, school psychologist.
Related: Psychology Careers and Salaries
Nursing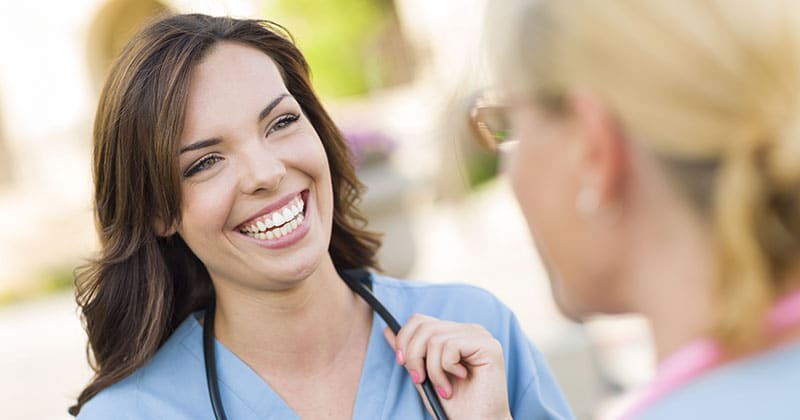 If you're looking for a medical career that's in demand, nursing is a good sector to consider. Demand for nurses is already huge and is expected to keep growing. Australia has an aging population, placing an ever-increasing strain on our hospital and age care facilities. Nurses are needed for patient care across the healthcare system.
30. Assistant in Nursing
As an Assistant in Nursing (AlN), you work under the supervision of a Registered Nurse or Enrolled Nurse. You help the nurse perform his or her duties. Examples of common Assistant in Nursing tasks include facilitating activities such as toileting and showering; assisting patients in repositioning; and restocking and taking care of equipment. Exact duties vary from workplace to workplace. The Certificate III in Health Services Assistance (Assistant in Nursing Work in Acute Care) will help you begin your career.
Job examples: assistant in nursing, assistant nurse, nursing assistant.
31. Clinical Nurse
You must be a Registered Nurse before becoming a Clinical Nurse. For an RN to begin a career as a Clinical Nurse, they must complete special additional study in a specific area in which they have several years of experience. Clinical Nurses demonstrate advanced clinical skills in their specialty area. They have a superior level of knowledge that they use in planning patient care. Clinical Nurse's median annual salary is higher than that of a Registered Nurse.
Job examples: clinical nurse, clinical nurse - angiography, clinical nurse consultant, clinical nurse specialist.
32. Enrolled Nurse (EN)
Enrolled Nurses operate under the guidance of Registered Nurses. Their supervision level depends on specific tasks assigned. Duties differ across jobs and workplaces. Typical responsibilities include monitoring and reporting vital patient statistics, aiding in rehabilitation, ensuring patient safety, and providing emergency care and first aid. A Diploma in Enrolled Nursing is essential to start. To become an Endorsed Enrolled Nurse with medication training, you'll require additional training.
Job examples: endorsed enrolled nurse, endorsed enrolled nurse - rehabilitation, enrolled nurse, enrolled nurse - acute services, enrolled nurse (advanced skill), enrolled nurse (advanced skills) - anaesthetics, enrolled nurse (casual), enrolled nurse - endorsed team leader, enrolled nurse (medication endorsed), enrolled nurse team leader, enrolled nurse - residential services, enrolled nurse (aged care).
33. Mental Health Nurse
To be a Mental Health Nurse (MHN), you first need to be an Enrolled Nurse or a Registered Nurse. If you're still a student in a nursing program, you could ask to do a placement in a Mental Health Nursing setting. If you're already a nurse, look for MHN employment, get some experience, and then complete studies for specialisation. The standard qualification to be recognised as an MHN is a Graduate Diploma of Mental Health Nursing. Mental Health Nurses can be found in several different workplaces, such as forensic settings, hospitals, and community aged care. Registered MHNs enjoy an excellent salary.
Job examples: clinical nurse (mental health worker), community mental health nurse (CAT), mental health nurse.
34. Midwife
Midwives must be appropriately educated and licensed to practice. In Australia, most midwives are Registered Nurses, so a popular path is to first become a Registered Nurse and then obtain additional qualifications in midwifery. Midwives practise in many different settings, including health units and clinics, patient homes, and hospitals. They provide care, support, and advice to pregnant women, and have several important duties including, for example, conducting births and caring for newborns. Midwives provide education and health counselling to pregnant women and the larger community.
Job examples: community midwife, midwife, midwife manager, registered midwife, registered nurse / midwife, remote area midwife.
35. Nurse Educator and Researcher
Nurse educators and researchers design nursing education programs and conduct research. They teach nursing students, assess them, provide feedback, and coordinate their practical experiences. They also undertake and share research projects. They primarily work in nursing schools, universities, health care environments, and research centres. To be a nurse educator, you need significant clinical experience, a relevant master's degree, and possibly a doctorate for certain roles.
Job examples: clinical nurse educator, lecturer in nursing, nurse educator, nurse educator – mental health, nurse educator (paediatrics), professor of acute care nursing, professor of nursing, psychiatric nurse educator, senior lecturer in nursing.
36. Nurse Manager
To be a nurse manager, you must have a registered nursing license and several years of experience in the profession. A nurse manager supervises a hospital or clinic's nursing unit. Duties include overseeing patient care, directing of nursing staff, and making certain decisions in the areas of management or budget. This professional makes hiring decisions, coordinates meetings, and sets work schedules. To be successful as a nurse manager, you will need outstanding leadership, interpersonal, and organisational skills. Nurse managers enjoy an excellent salary.
Job examples: associate nurse manager, associate nurse unit manager, clinical nurse manager, nurse manager, nurse manager (staffing), nurse unit manager.
37. Nurse Practitioner
Nurse Practitioners function more autonomously than Registered or Clinical Nurses. They assess and manage patients, prescribing medications, providing referrals, and ordering diagnostic tests. You'll need to be a qualified Registered Nurse before working to become a Nurse Practitioner. The additional training you'll need to become a Nurse Practitioner takes 1.5-2 years. Before beginning this training, you'll need to have at least 3 years of experience as a Registered Nurse. As a Nurse Practitioner, you 'd enjoy an impressive salary exceeding that of a Clinical Nurse.
Job examples: nurse practitioner, nurse practitioner - acute care team, nurse practitioner - community palliative care team, nurse practitioner - emergency department, primary care nurse practitioner.
38. Registered Nurse (RN)
Registered Nurses have higher levels of responsibility and accountability than Enrolled Nurses. To become a Registered Nurse (RN), you'll need a bachelor's degree in Health Science (Nursing) or bachelor's degree in Nursing. If you already have a degree, you can enroll in the Master of Nursing (Graduate Entry) program. Once your education is finished, you must register with the Nursing and Midwifery Board of Australia (NMBA) before beginning to practice. They earn an excellent median annual salary.
Job examples: registered nurse, registered nurse - cardiovascular unit, registered nurse - emergency department, registered nurse - medical imaging.
Nutrition
Nutrition professionals helps people manage what foods we eat, drinks we drink, and supplements we take. Good nutrition is essential for prevention and recovery from conditions such as obesity, heart disease and diabetes. You can pursue a nutrition career in food and beverage industries, by helping deliver public health programs, and in client and patient care such as medical services in hospitals.
39. Dietitian
Dietitians know how food impacts the body. They assist both healthy individuals and those with medical or eating issues to use nutrition for better health. In Australia, dietitians must be DAA members and accredited by the APD program. Those without a degree should select an accredited undergraduate dietetics course, while degree holders can do an accredited postgraduate course. Dietitians work in areas like food service, hospitals, research, teaching, community nutrition, and public health. They might also run a private practice or consultancy.
Job examples: clinical dietitian, dietitian, dietitian (casual), dietician advanced - nutrition and dietetics, dietitian - senior (cancer care), dietitian - senior (clinical), senior clinical dietitian, senior clinical dietitian, senior dietitian.
40. Nutrition Assistant
The nutrition assistant's exact duties depend on the workplace. One example of a setting in which nutrition assistants might be found is the hospital. In hospitals, nutrition assistants carry out duties related to the provision of proper nutrition and menu selection to patients. They are generally part of the hospital's Nutrition and Dietetics Department. A Certificate III in Nutrition and Dietetic Assistance will help you launch a career in this field. If you're interested in a health and lifestyle coordinator role, you'll need a Certificate IV in Fitness as well.
Job examples: health and lifestyle coordinator, nutrition assistant.
41. Nutritionist
Nutritionists help people by advising them on food choices, facilitating better health by making them better informed. Begin your path to a career as a nutritionist by completing a university degree in a field such as nutrition or food sciences. Some of the fields in which nutritionists may find work include food technology, quality and nutrition coordination, community development, public health, nutrition research, and nutrition advising. Nutritionists aren't as qualified as dietitians, and they have a smaller range of career options.
Job example: nutritionist
Pharmacy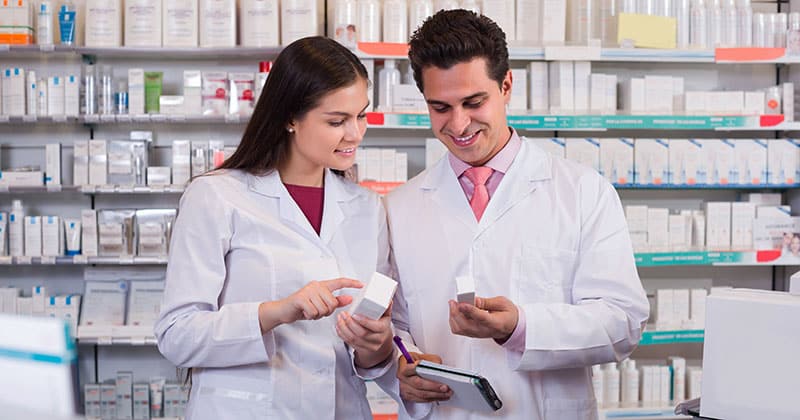 Pharmacists are health practitioners with a chemistry bent. As a pharmacist, you become part of a very large industry that's concerned with preparing and dispensing drugs.
42. Community Pharmacist
Community pharmacy is a popular choice for new pharmacists. They typically provide general services, health education, and medication counselling. Many aim to own their own pharmacy. For this career, registration with AHPRA and appropriate Professional Indemnity Insurance are required. Continuous learning is vital, with a set minimum of professional development needed every 12 months.
Job example: community pharmacist
43. Hospital Pharmacist
Hospital pharmacists are responsible for making sure that prescribed medications in a hospital setting are administered safely and effectively. They oversee the use of medication overall and have duties such as managing medication interactions and adverse reactions, monitoring the progress and effectiveness of patient therapy, calculating dosages, and reviewing medication charts. They might provide education for other health professionals in the hospital. To a greater degree than in community pharmacy, you have opportunities to specialise and take on more senior roles.
Job examples: clinical pharmacist senior clinical pharmacist – surgery (trauma), senior clinical pharmacist – perioperative medicine,
44. Pharmaceutical Industry
Pharmacists can work in pharmaceutical companies across marketing, sales, medical, and manufacturing. Clinical pharmacy experience boosts job prospects, as does familiarity with adverse events reporting, collaborating with GPs, and home medication reviews. For pharmaceutical sales or marketing roles, prior sales experience and marketing qualifications are advantageous. For clinical research, experience in clinical trial coordination and understanding the drug development process are valuable.
Job examples: formulations technologist, product specialist, pharmaceutical brand manager, medical information associate, quality coordinator, senior medical information associate,
45. Pharmacy Technician
Pharmacy technicians assist in the preparation and dispensing of medicines. Some duties include receiving prescriptions from pharmacists, as well as preparing and mixing medicines under the pharmacist's supervision. If you work in a hospital, you might deliver medicines to its wards. While it's possible to become a pharmacy technician just through doing a traineeship, a Certificate III and IV in Community Pharmacy (Dispensary) will be helpful in the job search. This program if offered by the Pharmacy Guild of Australia. If you want to work in a hospital pharmacy, consider getting a Certificate III and IV in Hospital Health Services Pharmacy Support.
Job examples: dispensary technician, pharmacy technician, pharmacy technician – grade 1.
Physical Therapy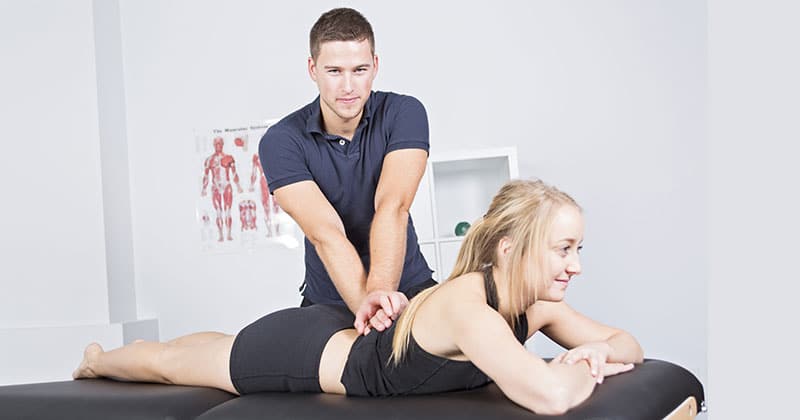 The way we move is the concern of physical therapists. Career opportunities are available wherever people need help to overcome disability, illness or injury that prevents them from achieving their full physical potential. Therapists use their knowledge of body mechanics, medicine and exercise to directly assist people to move better.
46. Chiropractor
Chiropractors (also known as Doctors of Chiropractic) focus on the relationship between the spine and nervous system. They believe that understanding both structure and function are instrumental to ensuring the overall health of their patients. Chiropractors in Australia have five years of university training. The program they complete must be properly accredited. Once they've completed their education, they need to become registered with the Chiropractic Board of Australia. To be successful as a chiropractor, you'll need to be a lifelong learner who undertakes continuing professional development.
Job example: chiropractor
47. Massage Therapist
Massage therapists carry out therapeutic massage and body treatments for several purposes, including health, relaxation, fitness, and remedial. They help to promote healing by massaging the soft tissues such as ligaments, tendons, and muscles; assess patient case history and health, giving appropriate advice on relaxation techniques and stretching exercises; use many different massages techniques to help prevent injury and improve athletic performance; providing treatment for soft tissue dysfunction and guiding rehabilitation; and boost circulation and alleviate muscle tension. Complete a Certificate IV in Massage Therapy Practice to begin in this career.
Job examples: massage therapist
48. Occupational Therapist
Occupational therapists help people carry out the activities of daily life. These health professionals assess their clients on an ongoing basis. They assist clients to overcome problems arising from occurrences such as ageing, developmental delay, illness or injury, and emotional or psychological difficulties. You can complete a 4-year undergraduate occupational therapy degree program or, if you already have a degree, a 2-2.5 year graduate program.
Job examples: graduate occupational therapist, hospital occupational therapist, locum paediatric occupational therapist, junior occupational therapist, mental health occupational therapist, occupational therapist, occupational therapist - aged care, paediatric occupational therapist, transitional care program occupational therapist, senior clinician occupational therapist, senior occupational therapist.
49. Physiotherapist
Physiotherapists treat patients who have physical problems, such as disability and injury. As a physiotherapist, you could treat both adults and children. You need to do a 4-year bachelor's degree in physiotherapy. An alternative might be a 5-year double degree. Physiotherapists who want a specialty must do postgraduate studies (usually a master's degree). To practice as a physiotherapist, you'll have to be registered with the Physiotherapy Board of Australia.
Job examples: clinical lead physiotherapist, graduate physiotherapist, limited registration physiotherapist, locum physiotherapist, physiotherapist, physiotherapist (casual), physiotherapist - musculoskeletal, physiotherapist (paediatrics), physiotherapist (rehabilitation), physiotherapist (aged and community care), research physiotherapist, senior physiotherapist, sports injury physiotherapist.
50. Therapy Assistant
Therapy assistants work under the direction of a physiotherapist or occupational therapist. A Certificate III in Allied Health Assistance will help you begin in this career. Get as much experience as possible as soon as you can, as it will give you a competitive advantage. To be successful in this career, you'll need excellent communication and time management skills. Highly developed organisational skills are also important. Community allied health services and aged care facilities are among the workplaces where therapy assistants can be found.
Job examples: physio assistant, physiotherapy assistant, therapy assistant.
Safety
Preventing accidents and overuse injuries, especially in the workplace, is a career option if you have strong communication and interpersonal skills. Government departments, corporate businesses and industrial sites use safety professionals to keep their workers healthy.
51. Occupational Health and Safety Advisor
Occupational health and safety advisors are valued members of the workplace, essential for ensuring that health and safety best practices are known and adhered to. In this career, you'd need thorough knowledge of OHS legislation and its associated codes. Professionals in this field must have excellent leadership and interpersonal skills. Occupational health and safety (OHS) qualifications, such as a degree in Occupational, Health, and Safety are required. You might be at an advantage in the job search if you're a certified generalist OHS professional.
Job examples: health and safety advisor, health safety environment and quality specialist, health safety and wellbeing advisor, occupational health and safety advisor, regional health and safety specialist, safety advisor, safety consultant, workplace health and safety advisor.
52. Work Health and Safety Officer
Work health and safety officers are essential in the development and implementation of workplace WHS policies, procedures, and systems. Most jobs require at least a Certificate IV in WHS (Work Health and Safety). Some positions may have additional qualification requirements, such as certificates in Training and Assessment. Experience is also important, so make sure to start accumulating some as soon as you can. Highly developed organisational, communication, and leadership skills are essential for this career path.
Job examples: health and wellness officer, safety coordinator, work health and safety coordinator, work health and safety (WHS) officer, workplace health and safety officer.
Technologist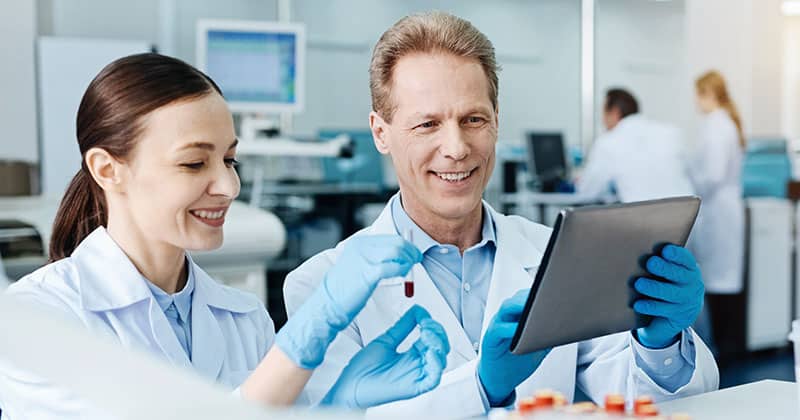 Medical systems rely on technology often, including in assessment, diagnosis and conducting complex procedures. Technologists support other medical professionals by carrying out vital tasks such as taking samples, doing scanning and imaging, and putting patients to sleep.
53. Anaesthetic Technologist
Anaesthetic technologists provide assistance to anaesthetists, preparing the equipment and environment needed for anaesthetists to ensure environmental temperature control and monitoring, intravenous therapies, advanced invasive physiological monitoring, and safe airway management. You'd also be required to assist during emergency procedures and resuscitation. For a career in this field, you'll need at minimum a Diploma of Anaesthetic Science, a qualification recognized by the Australia and New Zealand College (ANZCA) of Anaesthetists. Anaesthetic technologists are important parts of hospital Anaesthesia teams.
Job example: anaesthetic technologist
54. Medical Imaging Technologist
Medical imaging technologists produce radiographic images through the use of X-rays and other kinds of imaging equipment. As such, they are essential professionals in disease and injury diagnosis and management. For a successful career in this field, you'll need to be detail-oriented and have outstanding teamwork skills. Medical imaging technologists also require a strong interest in science, as well as an enthusiasm for helping people. If you'd like your future to include a career in medical imaging technology, get a degree in medical radiation science or medical imaging.
Job examples: general / CT radiographer, mammographer, medical imaging tech, medical imaging technologist, nuclear medicine technologist, radiographer.
55. Medical Laboratory Technician
Medical laboratory technicians should be detail-focused, curious, and diligent, with strong problem-solving skills and empathy. This career is predicted to see robust job growth in Australia. Entry may be through a traineeship, but many employers prefer a VET qualification. Typical duties involve operating lab equipment, assisting with medical procedures, collecting and labelling patient samples, examining samples for immune response products, and preparing slides for blood and histological examination.
Job example: medical laboratory technician
Jobs in Australia
Health is a huge employment sector. Australia is projected to need more than a million healthcare workers by 2026.
Demand is greatest in the area of providing ongoing support to old, disabled, sick and injured Australians. While demand for doctors will continue to be strong, for every GP or medical specialist you need a range of support staff. These includes nurses, aged and disabled carers, personal care workers, medical technicians, physiotherapists, and social workers.
Projected health professionals job numbers by 2026 ('000s)
| Occupation | Employment ('000s) |
| --- | --- |
| Registered Nurses | 331.2 |
| General Practitioners and Resident Medical Officers | 67.8 |
| Health and Welfare Services Managers | 45.3 |
| Medical Technicians | 42.4 |
| Physiotherapists | 42.2 |
| Pharmacists | 37.7 |
| Occupational and Environmental Health Professionals | 33.1 |
| Occupational Therapists | 25.6 |
| Nurse Managers | 22.6 |
| Specialist Physicians | 22.6 |
| Dental Practitioners | 22.3 |
| Other Medical Practitioners | 19.3 |
| Midwives | 19.3 |
| Medical Imaging Professionals | 18.2 |
| Audiologists and Speech Pathologists \ Therapists | 16.6 |
| Chiropractors and Osteopaths | 13.0 |
| Optometrists and Orthoptists | 11.4 |
| Other Health Diagnostic and Promotion Professionals | 9.5 |
| Surgeons | 9.2 |
| Podiatrists | 8.5 |
| Nutrition Professionals | 8.5 |
| Nurse Educators and Researchers | 8.3 |
| Complementary Health Therapists | 8.0 |
| Anaesthetists | 6.0 |
| Psychiatrists | 5.9 |
Source: NSC Employment Projections, 10 October 2023