A. Classroom Teaching Careers
The classic education career is where you teach in a classroom environment at a school, college or university. Below is a list of the top dozen classroom teaching careers available in Australia. We start with the big 3 schoolteacher jobs: early ed, primary or secondary teacher.
Early Childhood Teacher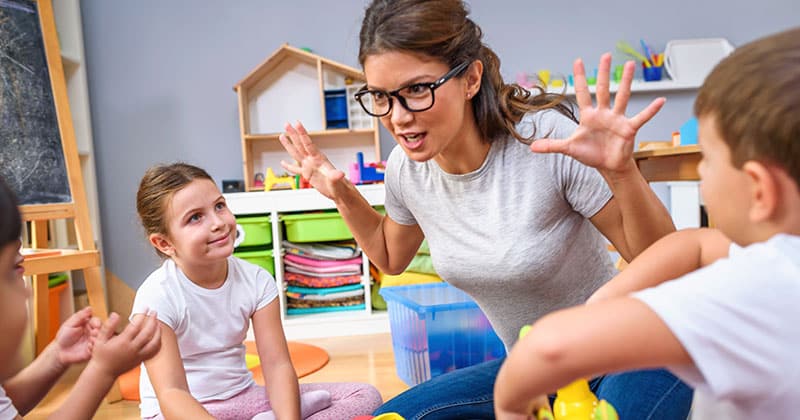 A career in early childhood education is a popular path for people who love working with small children (from infancy to kindergarten). You help to foster and guide the development of children's social skills, confidence, and literacy and numeracy skills. Communicating with parents and reporting on their children's progress is also required. As well, you need to plan lessons and create curriculum resources. To qualify, you can do a 4-year education degree specialising in early childhood education. If you already have a degree in another field, you can do a 2-year Master of Teaching in this field.
Job titles: childcare trainee, coordinator - children's centre, early childhood educator, early childhood teacher, early childhood teacher room leader, early learning centre director, early learning group leader, kindergarten teacher, preschool director, preschool teacher / room leader.
Primary Teacher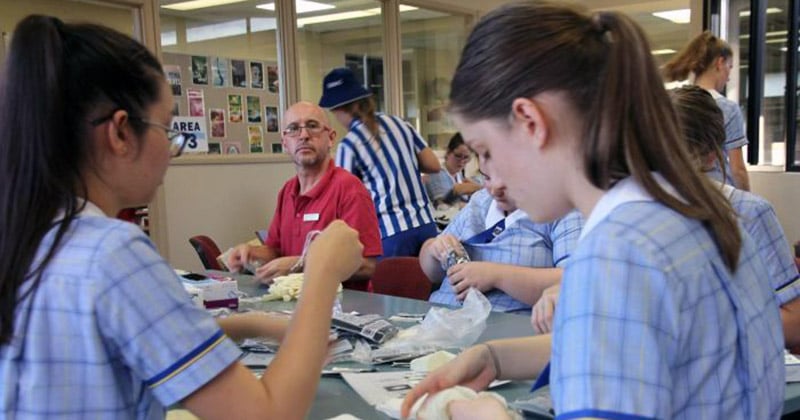 Primary teachers teach kids from ages 5 to 12. To qualify, you can a 4-year Bachelor of Education program. If you already have a degree in another area, you can complete a 2-year Master of Teaching (Primary) instead. When you complete the training program, you'll need to have one area (subject) of specialty. However, these teachers are generalists – instructing in subjects across the curriculum. You'll have various administrative duties, and you'll need to plan lessons and create curriculum resources and classroom materials. Like all teachers in the Australian school system, primary teachers work significantly longer hours than is generally understood.
Job titles: classroom teacher, generalist primary, LOTE - classroom teacher, middle / upper school classroom teacher, primary EAL classroom teacher, primary teacher, teacher - primary instrumental music, teacher - primary general, teacher - primary physical education.
Secondary Teacher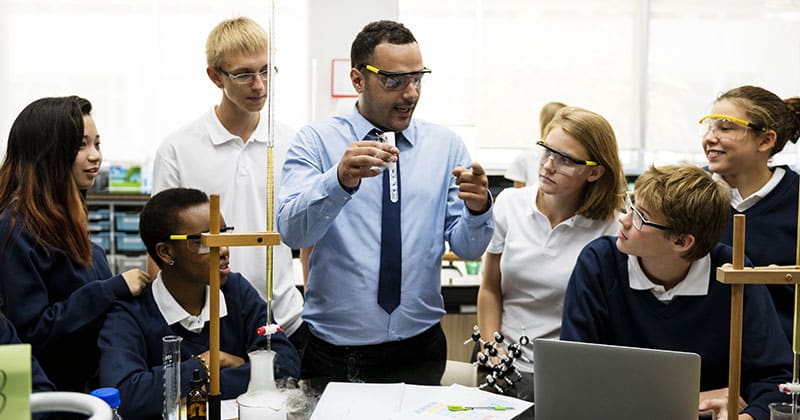 Are you brave enough to take charge of a classroom full of teenagers? If you're up to the challenge, you'll teach students from Years 7 to 12. You'll have to specialise in one subject, such as: mathematics, science, English and literature, the arts, technology and enterprise, humanities and social sciences (HASS), health and physical education, or languages. You'll also need to choose a second learning area. While 4-year secondary teaching degrees are available, one of the most common routes to this career is completion of a bachelor's degree in the specialist subject before a Master of Teaching (Secondary). Secondary teachers make a higher average annual salary than teachers in primary schools.
Job titles: classroom teacher - English / humanities, classroom teacher - mathematics, classroom teacher - science, drama teacher, EAL teacher, instrumental music teacher, legal studies and humanities teacher, maths / science teacher, music teacher, secondary EAL classroom teacher, secondary English teacher, secondary HSIE teacher, secondary school teacher, secondary teacher librarian, secondary teacher, teacher - food and technology, teacher - secondary English and history, teacher - secondary home economics, technology teacher.
Casual Teacher
Casual teaching offers flexibility and opportunities for learning and growth. Casual teaching jobs are available in educational settings that include the K-12 school system, trade or vocational schools and colleges, and tutoring positions at university. If you want to teach primary and secondary school students, you'll need to be a fully qualified teacher with a degree in education (a 4-year education degree or 2-year postgraduate teaching degree). Casual teachers are called in to teach when a regular teacher is away (for example, when they're sick or on leave). Jobs in trade and vocational schools or at colleges usually require extensive background in the subject being taught.
Job titles: casual educator early childhood teacher, casual primary teacher, casual / relief teacher, casual secondary teacher, casual teacher agriculture, casual teacher automotive electrical, casual teacher - bakery, casual teacher carpentry, casual teacher conservation land management, casual teacher - electrical, casual teacher horticulture, casual teacher - hospitality, casual teacher - outdoor recreation, casual teacher - plumbing, casual teacher - retail, casual teacher - travel, casual teacher / tutor, relief kindergarten teacher.
Catholic School Teacher
Like the public system, Catholic schools require full teacher training and certification. The Roman Catholic school system in Australia is a major employer. One in five Australian K-12 students attend these schools. Whether you'll be required to be Catholic to teach in a Catholic school varies from diocese to diocese. You'll at least need to have a solid understanding of the church's teachings and practices. If you're hired to teach in a Catholic school, you'll probably have to complete an Induction Module within your 1st year. If you obtain a permanent teaching position, you'll be required to do 4 special semester-length educational units in Catholic Studies. Catholic schools offer the full curriculum range provided by other Australian schools.
Job titles: art teacher, casual teacher, chemistry teacher, classroom teacher, dance teacher, early childhood teacher, general teacher, hospitality and food technology, HSIE teacher, individual needs teacher, mathematics teacher, middle / upper school classroom teacher, middle school teacher, music teacher (strings), physical education teacher, primary teacher, relief teacher, science teacher, secondary science teacher, supply relief teacher, teacher librarian, visual arts teacher.
ESL Teacher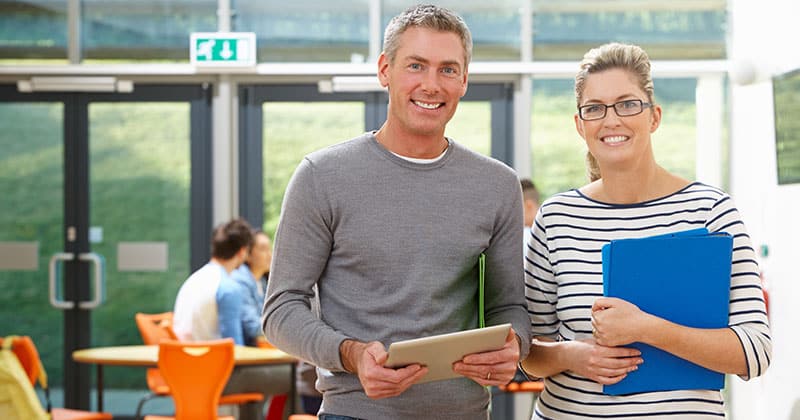 Would you enjoy teaching newcomers to Australia how to speak English? Positions are available that involve teaching adults in language school and other settings. Many ESL teaching positions in Australia require a bachelor's degree and TESOL or CELTA certification. If you want to teach in the K-12 school system, don't forget that you'll need to be a certified teacher with a Bachelor of Education or Master of Teaching. To be successful teaching in this field, you'll need excellent communication skills (especially listening and speaking), as well as patience and enthusiasm for helping people learn.
Job titles: casual ESL English teacher, English teacher, English teacher / English tutor (ESL / TESOL), ESL teacher, online ESL teacher, secondary ESL teacher.
School Principal
Are you hoping to be a school principal one day? You'll need to be a qualified teacher and get substantial teaching experience before obtaining a principal position. Successful school principals need outstanding communication, leadership, and organisational skills. Exact duties could depend on the specific school. Some of the most common responsibilities include setting out the school's educational program (based on state curriculum standards), hiring teacher and support staff, monitoring all activities of the school and its staff, and working to improve school performance.
Job titles: assistant principal, assistant principal special education, deputy principal, deputy principal (junior secondary), deputy principal secondary, deputy principal special education, head teacher, principal, principal of primary school, school principal.
Special Ed Teacher
Being a special education career is equal parts rewarding and challenging. This field demands especially dedicated teachers who are skilled at motivating students and have a strong sense of empathy and compassion. You'll need to be good at adapting to different situations and understanding your students as complex human beings. One of the best paths to a career in special education teaching is to complete an education degree program that allows you to major or specialise in special education. Opportunities for postgraduate qualifications in special education are also available.
Job titles: assistant principal special education, deputy principal special education, learning consultant-behaviour, specialist teacher (key worker), teacher-special education, teacher special education hearing impairment (itinerant), TESS learning support teacher.
Teacher Aide
The teacher aide field is one of the most promising in the Australian education sector. Government studies predict extensive growth in this field over the next several years. One of the most popular ways to train for this job is to complete a Certificate III in Education Support. Most teacher aides in Australia have this qualification. The course takes a maximum of about a year to finish. You'll be required to carry out a vocational placement for hands-on experience. Examples of teacher aides' duties include tutoring, supervising, and helping students; assisting kids with special needs; observing and keeping track of academic performance; and enforcing classroom rules.
Job titles: classroom assistant - students with additional needs, education support, integration aide, integration aide / classroom support, integration aide traineeship, learning support assistant, learning support-teacher's aide, multicultural educational aide, teacher aide, teacher's aide.
University Lecturer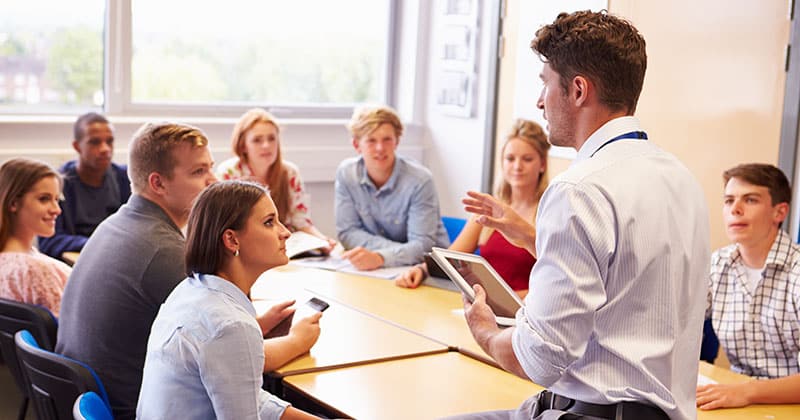 Lecturer jobs at universities usually require completion of a master's or, more commonly, a doctoral degree in the relevant subject area. While many positions are full-time and/or permanent, some may be sessional or temporary. Applicants who have teaching or research experience are generally at an advantage. Depending on the field, industry experience could be another significant factor, or perhaps even a requirement. Lecturer positions are available in a wide variety of academic subject areas. Lecturers in Australia enjoy a very competitive median annual salary.
Job titles: language and learning educator, lecturer (biomedical sciences), lecturer in criminology, lecturer in exercise and sport science, lecturer in history, lecturer in Italian, lecturer (law), lecturer in linguistics, lecturer (mechatronic engineering), lecturer in nursing, lecturer (philosophy), lecturer - psychology, lecturer in social work (field education), lecturer in sustainable aquaculture, post-doctoral fellow / associate lecturer, senior lecturer, senior lecturer (paramedicine).
University Professor
Do you dream of a life in academia, as a university professor? If so, you'll need a PhD in your chosen field of study. If you don't already work for the university of your choice, you'll have to apply for an externally advertised position. The application process will probably involve submitting a resume and application letter to a special selection committee. Most associate professors and full professors enjoy impressive salaries and fulfilling careers. University professors are expected to maintain the highest standards of teaching and research.
Job titles: associate professor, associate professor in biostatistics, associate professor (computer science), associate professor in finance, associate professor in A, associate professor (civil engineering), professor (mechatronics engineering), professor, professor of architecture design research, reader (associate professor) in finance.
Vocational Education and Training (VET) Instructor
The VET system offers thousands of courses to train and re-train Australians for a wide range of different in-demand careers. Many teaching positions in this field offer excellent pay, and there are both part-time and full-time jobs available. You may find that there are online as well as in-person teaching opportunities. Exact job titles vary from region to region, and each state has its own qualification requirements for TAFE teachers.
Qualifications: Relevant industry and vocational experience in addition to the Certificate IV in Training and Assessment are common requirements. Whether you'll need a university degree may depend on the subject you wish to teach. Most Vocational Education and Training (VET) instructors have years of experience in their field and use that experience to teach adult students the skills they need for a career. They often teach mature-aged students, and evening classes are common.
Employers: Most VET programs are administered by Registered Training Organisations (RTOs). These include Technical and Further Education (TAFE) Institutes, as well as private colleges, community education providers, industry skill centers, community organisations, providers of commercial and enterprise training, and a small number of universities.
Job titles: casual teacher, classroom teacher, education developer, head teacher, sessional teaching, teacher, temporary teacher, trade instructor, VET teacher
Teaching fields: animal care | building | business services | children's services | community services | community services (ageing/disability) | electrical trades | English language (literacy and numeracy) | hair and beauty | health services | horticulture | information technology | nursing | retail | tourism and hospitality
B. Tutor, Instructor and Coaching Jobs
You may be surprised at the range of teaching careers available outside of formal school settings.
Jobs for tutors, instructors and coaches exist wherever people are willing to pay for services that help them build skills, knowledge, talents, health or quality of life. Students may want private academic tutoring or to learn a hobby or professional skill. They may want to develop job-relevant skills or to learn just for fun.
Fitness Instructor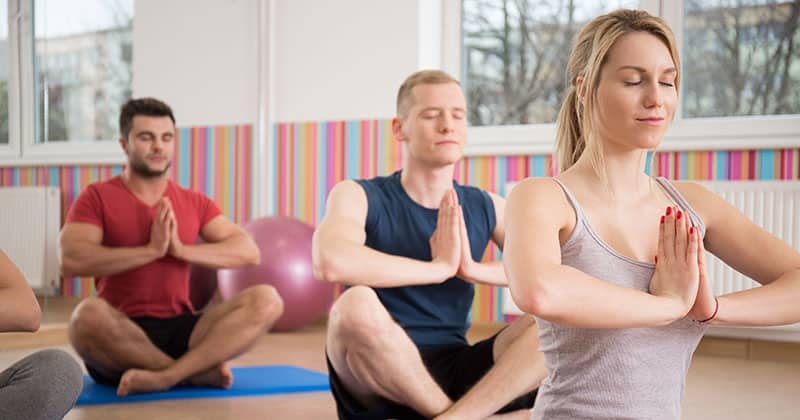 If you're in good shape and would enjoy a career helping improve other people's lives through better health, think about becoming a fitness instructor. You'd work in a fitness centre or gym, supervising, assessing, and training clients. The Certificate III in Fitness will prepare you for this career. If you want to be a one-on-one personal trainer, you'll also need the Certificate IV in Fitness.
Job titles: aqua fit instructor, bootcamp instructor, boxercise instructor, casual group exercise instructor, dance instructor, fitness / gym floor instructor, fitness instructor, fitness instructor / personal trainer, fitness trainer, fitness team trainer, group fitness instructor, group fitness instructor / personal trainer, group fitness instructor - yoga qualified, gymnastics instructor, health and fitness instructor, health and lifestyle coordinator, health coach, martial arts instructor, personal fitness coach, personal trainer, pilates instructor, reformer pilates instructor, yoga instructor.
Music Teacher
If you're an accomplished musician, think about a career as a private music teacher. You'll work for a private music school or individually with students, perhaps in a home-based environment, teaching them how to read and play music. If you choose to become a vocal teacher, you'll teach your students to sing. Private music teachers are often paid on an hourly basis, commanding excellent rates.
Job titles: casual piano teacher, guitar / singing / piano teacher, instrumental music teacher, music teacher, piano and violin music teacher, piano teacher, piano / violin teacher, piano / vocal teacher, preschool piano teacher, singing / violin / piano teacher.
Private Tutor (Academic)
As a private academic tutor, you can have your own tutoring business or work for an employer, such as a tutoring company. You might be required to work in students' homes. Having teaching qualifications and/or extensive background in your specialty subject will give you a distinct advantage in this field. Many positions are part-time or casual in nature. Jobs in this field tend to be paid on an hourly basis, and the rate of pay can vary significantly from tutor to tutor.
Job titles: English tutor, maths and English tutor, part-time private tutor, private music teacher, private tutor, tutor (VCE English).
Sports Coach
Are you a sports enthusiast who wants to teach and guide others, helping them to achieve their athletic goals? Maybe being a sports coach is the job you've been looking for. Whether you'll be coaching adults or children will depend on the specific position and employer. A Working With Children Check and National Police Certificate are always necessary for people working with kids. To help you progress in your career, you can take an online Australian Sports Commission course called Community Coaching General Principles.
Job titles: assistant coach - hockey, athletics coach, aussie rules coach, badminton coach, basketball coach, children's sports coach, cricket (kanga cricket) coach, football coach, gymnastics coach, gymnastics coach - acrobatics, head coach - sprint canoe, hockey coach, lacrosse coach, netball coach, preschool soccer coach, soccer coach, softball coach, sports coach, sports coach (activity officer), ultimate frisbee coach, volleyball coach.
Swim Instructor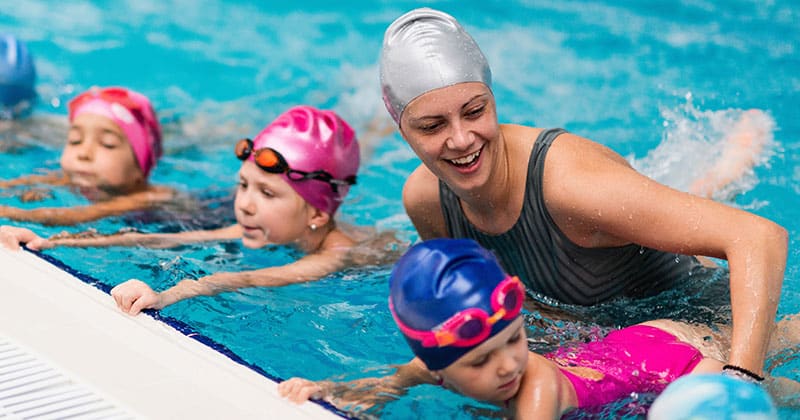 Are you a strong swimmer who would enjoy teaching others how to safely enjoy the water? An AUSTSWIM Teacher License will give you a major advantage in applying for swim instructor positions. It will assure prospective employers that you know what you're doing and your students will be safe. You'll need to complete AUSTSWIM's Teacher of Swimming and Water Safety (TSW) course.
Job titles: aquatic education instructor, aquatics team leader, aqua fit instructor, aqua instructor, assistant learn to swim instructor, casual learn to swim instructor, casual swim instructor, learn to swim instructor, learn to swim instructor / teacher, learn to swim morning supervisor, sessional learn to swim instructor, swim instructor, swim school coordinator, swim survival instructor, swim teacher, swimming instructor, swimming teacher.
Tennis Instructor
If tennis is one of your strengths, look into working as a tennis instructor. To secure a job, you'll probably need a relevant certificate or diploma, or have an excellent competition history. Teaching or coaching experience is sometimes required, as well. It's common for jobs to be temporary or sessional, or at least casual, in nature. Tennis Australia offers a number of certificates that you will give you an edge in the job search process.
Job titles: tennis coach, tennis instructor, tennis manager.
Other Sports and Hobbies
Are none of the sports we've discussed up your alley? Don't worry – there are others you can teach, from archery to snowsports. Courses teaching a wide range of non-athletic hobbies also need instructors. Is there a fun activity that you excel at and would like to help others enjoy? Examples of potential employers include sports and recreation clubs, education centres, and community organisations.
Job titles: archery instructor, climbing instructor, dive instructor, drawing instructor, golf instructor, golf manager, kayak instructor, outdoor education instructor, sailing instructor, ski instructor, snowboard instructor, snowsports instructor, water sports manager.
Workplace Trainer
Workplace trainers teach practical skills to workers, often in the workplace rather than in a classroom. These professionals generally have a great deal of experience in their field, making them able to help prepare others for a long and successful career. While it's often not a requirement, many of them hold a Certificate IV in Training and Assessment. Workplace trainers enjoy a competitive salary. To get started, you should first develop some serious skills in the field you want to teach. You also need to develop excellent one-to-one and group communication abilities.
Job titles: allied health trainer / assessor, beauty therapist trainer and coach, driver trainer, emergency management trainer, facilitator, senior IT trainer, sessional trainer, telecommunications trainer, trainer, trainer and assessor, training coordinator, workforce trainer, workplace trainer, youth development coach (transition to work), youth landscape trainer.
Jobs in Australia
Teaching is a large profession. Australia is projected to have around 800,000 education professionals by 2025. Population growth and a tendency towards smaller class sizes will see continued growth in jobs for education graduates.
Employment opportunities vary by state and it's not always easy to gain a permanent position. However, with sometimes high rates of staff turnover and, given the number of schools and other education institutions, teaching remains a solid career choice.
Projected job numbers by 2025
| | |
| --- | --- |
| Primary School Teachers | 179,843 |
| Secondary School Teachers | 157,523 |
| University Lecturers and Tutors | 76,152 |
| Other School Teachers | 74,752 |
| Early Childhood Teachers | 56,162 |
| Private Tutors and Teachers | 48,851 |
| Vocational Education Teachers | 36,424 |
| Health, Welfare Services Managers | 36,223 |
| Special Education Teachers | 29,012 |
| School Principals | 27,161 |
| Other Education Managers | 24,945 |
| Education Advisers and Reviewers | 21,780 |
| Child Care Centre Managers | 20,495 |
| Middle School Teachers | 3,536 |
| TESOL (basic English) Teachers | 2,735 |
Source: Labour Market Information Portal, 2021