If you are looking for a new role this year, here are ten excellent tips to revive your interview skills. For any kind of professional job in Australia, these are proven methods to give you the best possible chance of being made an offer.
You can work on you interview skills at any time. Even if you have only been in your current position for a short while, it never hurts to brush up on your interviewing skills before kicking off your job search. Actually, you may benefit by practicing when you are least stressed and most confident – that is, when you are not desperately trying to land a new job!
1. Get Prepared by Doing Your Research
The first tip may be obvious, but you need to do your research – of both the company and the person with whom you'll be interviewing. Getting this background information is paramount to proving your interest in the position as well as your knowledge of the industry.
Preparation also means cleaning up your online image on LinkedIn, Facebook, Twitter, etc. Photos from dinner parties may not be the first impression you want to make with a potential employer. Search for yourself online to see what comes up.
2. Arrive at the Right Time
Being late is inexcusable. But arriving 20 minutes early can make an interviewer feel rushed and start the meeting off with unnecessary tension. If your interview is scheduled for noon, show up between 11.55 and 11.59.
In Sydney, Melbourne and other big cities, most buildings have security to pass through. Allow plenty of time to locate your destination and get through security. Then be prepared to wait nearby or in the lobby until five minutes before your scheduled time. Remember to turn off your mobile phone.
3. Know Your Resume
You should be able to explain every item on your CV in detail. Have your professional story down to a two or three minute pitch. Be ready for likely questions.
Also be able to answer questions like, 'How long did you work at Bunnings?' and 'Why do you want to leave your current job?" quickly and without hesitation. Some employers may be interested in why you chose your particular university or degree, so brush up on details.
4. Sell Yourself
Many interviewers will be interested in why you moved on from each position listed on your CV. Make sure your job moves make sense, and have a truthful answer ready that highlights the goals and accomplishments you achieved in each position. This is a great opportunity to show your ambition and motivation to progress your career.
And take every opportunity to demonstrate your personal skills. While you should be natural, make good amounts of eye content, smile and laugh when appropriate, be reasonably confident, and talk well of others. Employers are very interested in assessing how well you will fit into their team.
5. Listen and Ask Good Questions
Listen carefully to questions and don't be afraid to take notes during your interview. Write down anything you'd like further clarification on in case you don't have a chance to ask your question immediately.
Many interviewers will ask you to prepare something for a follow up interview. Make sure you have all the details before you walk out the door.
Good questions are just another way to indicate you are serious about the role. You can almost bet that the recruiter will conclude the interview by asking if you have any questions or anything further to add.
6. Look Your Best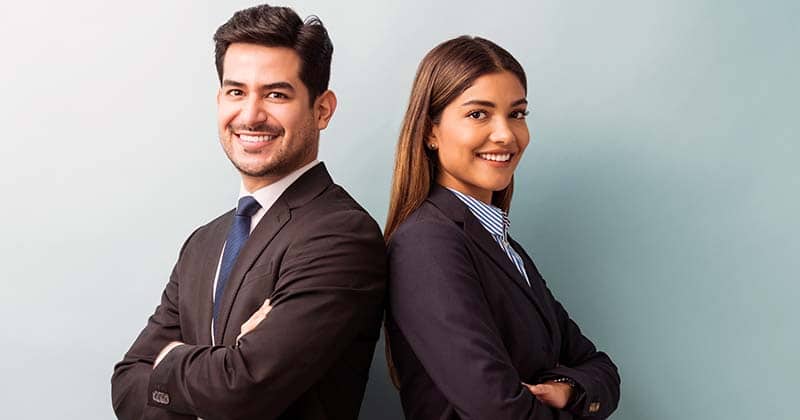 This may not be as old school as it sounds. Be aware of the company culture and dress code. When in doubt, men should wear a suit, and women should wear their best professional attire.
But, even if you are certain of a more casual environment, a good rule of thumb is to dress up one notch. Obvious hygiene and grooming aside put your best foot forward – shined shoes, crisp shirt, manicured nails and a haircut never hurt. Hipsters, you may want to trim those beards.
7. Practice
The more interviews you go on, the better you will get and the more confident you will be. On average a company will interview 7 – 9 people to fill one position. It makes sense to go on as many interviews as possible. Don't get discouraged. It really is a numbers game.
8. Follow Up After the Interview
Don't let more than 24 hours pass before following up with a brief thank you email. Keep it short and sweet, stressing your interest and opening the lines of communication for further questions.
But, don't overdo it either. The longer and more detailed the email, the more opportunities for spelling mistakes, grammatical errors and other red flags to be raised.
9. Be Discreet
Know the administrative details of your current role. Discreetly find out your current employer's policies on notice periods and paid time off. If you have future commitments requiring time off from work, no need to mention this (unless asked) to a potential employer until an offer is firmly in your hands.
10. Be Honest
Tell the truth and don't exaggerate. Nothing kills a job offer faster than a lie.
Depending on industry and company policy, be prepared for any number of background screenings. Recruiters may contact people you work with who are not your nominated referees. They might also want to confirm education qualifications and do criminal history checks.
Employers may also want proof of your current salary. Be honest and realistic during any salary negotiations. Fill out medical and physical forms as accurately as possible. The document may seem like a formality when you are filling it out, but this information will be used for any future paperwork needed for you to be employed by the employer.
Final Comment About Doing Interviews
The interview process can be painful at times, but it will have all been worth it once you land that great role. So, what are you waiting for? Start your job search off on the right foot today and build confidence and enthusiasm for the next interview opportunity.